EXCLUSIVE WAVE STITCH

The patented Wave Stitch opens your world to more decorative stitches for more creativity. Try different thread colors and stitch widths to easily serge a one-of-a-kind creation.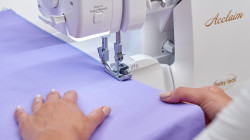 LOOPER DRIVE SYSTEM

This exclusive Looper Drive System prevents loopers from becoming misaligned or out of time, reducing the possibility of major looper damage. This protects your machine from needing repairs, allowing you to serge worry free!