Yo-yo Quilting
What are Yo-yo quilts? Yo-yo quilts are made from round pieces of fabric with long stitches along a turned-under outer edges. Stitches are pulled to gather the circles into rosettes. Some yo-yos are connected with a short seams but others are sewn together to more closely fill the gaps making the circles appear puffed up. Yo-Yo Quilts were most popular from the 1920s through the 1940s. Yo-yo quilts were popular for a number of reasons. Women could carry the little circles of fabric with them and make yo-yos whenever they had a free moment. Also, during the Great Depression, because they were made from small scraps of fabric, yo-yo quilts were more affordable to make and whatever fabric was on hand could be used. Come in today and see one of Marge's antique yo-yo quilts on display.

Yo-yo quilts are great for quilters on the go. Everything that you need can be stored in a small container that's ready to slip into a purse or bag and head out the door with you, ready for those times that you find yourself with a little extra time on your hands. It's perfect for travel, doctor's offices, sporting events or waiting in the carpool lane for school pick-up time!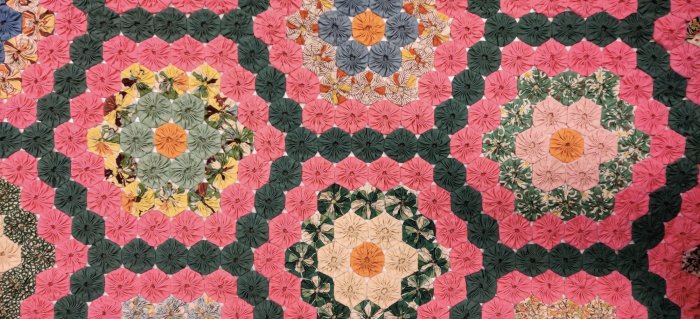 We offer private one-on-one instruction for this incredible technique. Please call 303-794-7312 today to
reserve your spot!