Finished Quilt Size 87" x 87"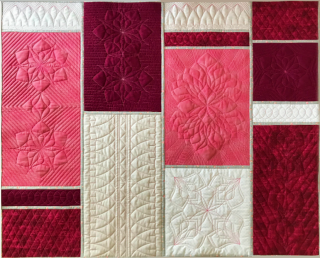 Quilt Class in a Bag is a series of Ruler Work Quilting classes taught by Karen Wiseman. We will work through the Rulers included in the Quilt Class in a Bag Kit (only) according to the pattern above .

There will be "homework" in between our sessions.
Each session is $80 using the same Rulers and Quilt top

to create your quilting designs! Karen will give tips and instruction on ruler quilting techniques and also to answer any questions that arise.


Students can chose any color way for their fabric selection, though we recommend a low-volume print with contrasting thread so you can easily see your Ruler Work Quilting. Wool batting is another way to make your quilted stitches puff up!


Quilt Class in a Bag Kits are sold separately and are available in the shop.
The Quilt Class in a Bag is a completely new template set and a 6 point, 8" cross hair ruler from Sew Steady and Westalee Designs!
Plus, the all the tools come in a Yazzii Bag valued at $40!
Learn how to quilt with a Deco, Nouveau, and Contemporary style with instructional DVD covering 13 new Designs over 41 blocks. All Designed by Leonie West of Westalee Design.
Set Includes:
*10"x10"Yazzi Bag w/ zipper & inside pocket
*Continuous Border Loop 2" x 2"
*Westalee Spin-e-fex 11 9.5"
*London Collection Continuous Hearts-a-Plenty 4 2"x4"
*SashLee Quilt Template (Simple Ditch Ruler and Sashing)
*Spacing Gauge
*Instruction Book and CD with all the lessons